We are thrilled to announce our partnership with borrowedtyme to drive greater efficiency for independent agents and brokers with Tensorflight's property intelligence solution.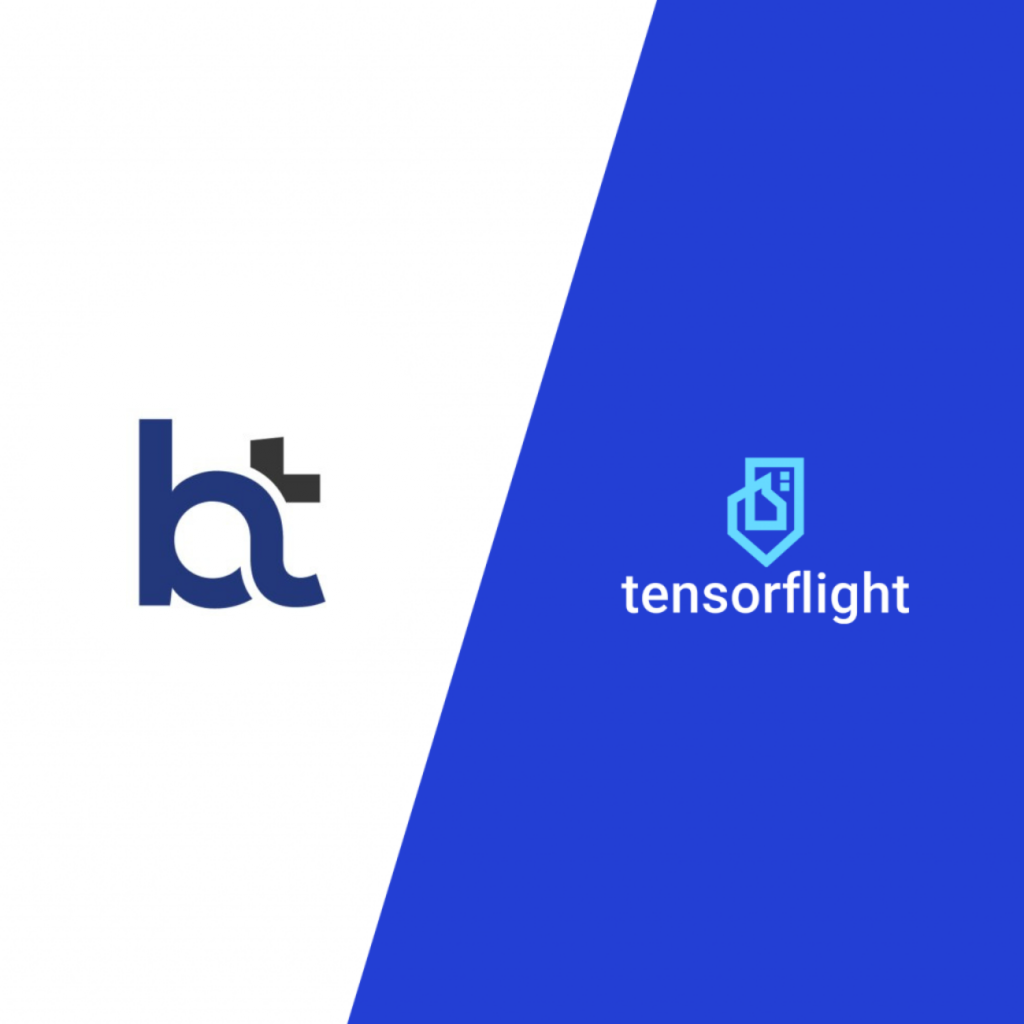 We are always looking for ways to improve our products and services. That's why we are excited to join forces with borrowedtyme to offer Tensorflight's AI with btcore – borrowedtyme's transformational agency management solution running on Salesforce Financial Services Cloud.
"By leveraging the cutting-edge technology of Tensorflight, btcore users can now streamline their customer experience and go-to-market processes. Instead of gathering and validating COPE-like data from prospects and auditor websites for commercial submissions, agents and brokers can quickly update commercial schedules in btcore with just a few clicks of a button." – said Kevin Rall, Co-Founder of borrowedtyme.
Our technology delivers fast and accurate property data and insights from aerial and satellite imagery. We use state-of-the-art computer vision and machine learning algorithms to extract property features, such as building size, shape, material, age, condition, and more. We also provide risk scores and loss estimates based on natural hazards, such as hail, wind, fire, and flood.
This partnership will benefit btcore users by providing them with the most complete property intelligence solution on the market. They will be able to access real-time data analytics capabilities that will help them reduce risk, eliminate waste, and cut costs across their organizations.
This partnership is also a great opportunity for both Tensorflight and borrowedtyme to drive the insurance industry forward with AI and data-driven solutions. We are impressed by borrowedtymes expertise, capabilities, and reputation in the insurance market. By working together, we can help independent agents, brokers, and insurance companies achieve their goals to grow profitably.
"We are delighted to partner with borrowedtyme, which shares our vision for transforming the insurance sector through the power of AI and data-driven insights. This collaboration enables us to jointly provide solutions to help insurers dramatically reduce risk, eliminate waste, and cut costs across their organizations," – said Jacob Grob, Tensorflight's Chief Revenue Officer.

About Tensorflight

Founded in 2016, Tensorflight is transforming the global P&C market with its AI imaging-based technology. It uses satellite, aerial, and ground-level imagery to automate commercial property inspections and underwriting processing, helping underwriters with risk assessment and to better understand their portfolio exposures. 
Its proprietary AI and computer vision technologies eliminate inaccuracies within property infrastructure data, significantly decreasing both the cost of and time spent on inspections in the insurance process. With Tensorflight, the cost of in-person property inspections can be reduced by over a quarter, and its solutions can considerably enhance the efficiency of the claims function.
A Polish/US company with offices in Warsaw, New York, and London, Tensorflight is used by many of the largest global commercial property insurers. For more information, visit:
www.tensorflight.com
About borrowedtyme
borrowedtyme is a community of independent agents and brokers that share ideas and build common capabilities together with contemporary technology that leads to stronger distribution channel for consumers and insurance companies. borrowedtyme exists to harness the innovative ideas of independent agents and brokers and deliver capabilities that can be reused and improved on by others.
In 2023 borrowedtyme introduced btcore, a comprehensive agency management system running on Salesforce Financial Services Cloud. With btcore, agencies and brokers can finally bring their sales, service, and financial accounting operations together on one platform. The core capabilities of btcore provide agencies and brokers with property casualty and employee benefit functionality that transforms their way of thinking about work and customer engagement. To learn more about btcore capabilities, implementation services, and pricing, visit btcorecloud.com.