Quotech and Tensorflight have formed a new partnership to bring powerful intelligence into insurance-market systems in real time, and to deploy that data effectively alongside the customers' own. Quotech is the underwriter-led, Convex-backed developer of truly useful, properly integrated technology platforms for underwriting and broking teams. Tensorflight is a pioneering data company that leverages the power of AI and machine learning to process high-resolution property-risk data exclusively for the property insurance sector.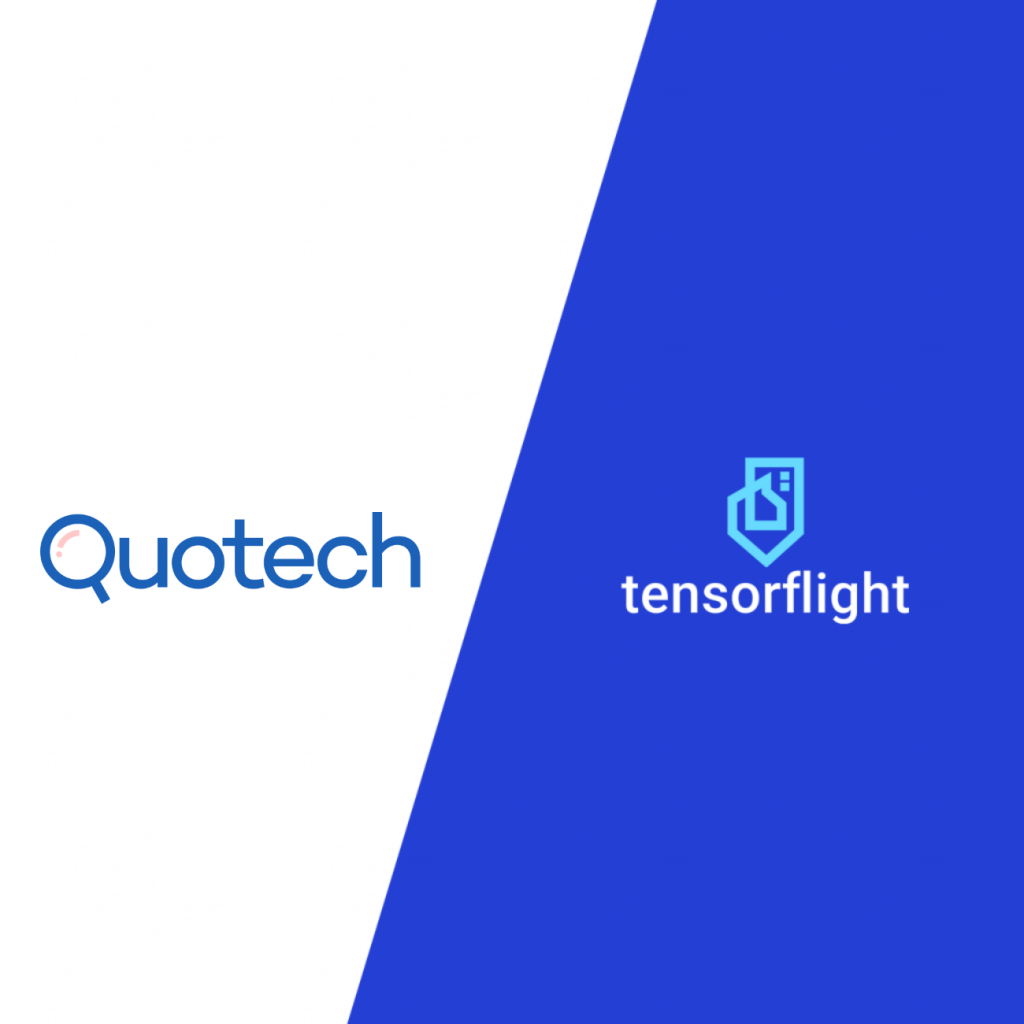 Data streams supplied by Tensorflight originate from ground-level, satellite, and aerial imagery, providing near-real-time information for the inspection of buildings anywhere in the world, without the cost of on-site surveyors. Processing via Tensorflight's "convolutional neural network" delivers accurate buildings data ranging from reliable geolocation to square footage, building materials and conditions, and even roof pitch. Connected to Quotech platforms via API, the partnership delivers an invaluable tool for assessing individual and aggregate exposures.
"Our new partnership program allows us to place our rich, powerful property-risk data into the hands of underwriters more effectively. The knowledge we deliver through Quotech lets them make better-informed decisions, and create the most appropriate coverage," says Tensorflight CEO Jakub Dryjas. "Quotech's unique place in the market – as a systems and data supplier that is run by an underwriter – further strengthens our commitment to enhancing the underwriting process."
Guillaume Bonnissent, Chief Executive, Quotech, said: "The world is awash with data. Even wading through the various data sources can be a stultifying task – let alone parsing the data itself. But to operate efficiently and effectively as an underwriter, it's essential to have appropriate, high-quality data in the right place at the right time. Our dual roles at Quotech are to provide intuitive systems which deliver data in that way, but also to curate from the vast number of data streams out there to offer our clients the best of what's now available to fuel their systems and give them an underwriting upper hand. Tensorflight is one of those superior data sources."
About Tensorflight
Founded in 2016, Tensorflight is transforming the global P&C market with its AI imaging-based technology. It uses satellite, aerial, and ground-level imagery to automate commercial and residential property inspections and claims processing, helping underwriters with risk assessment and to better understand their portfolio exposures.
Tensorflight's proprietary AI and computer vision technologies eliminate inaccuracies within property infrastructure data, which in turn significantly decreases both the cost of and time spent on inspections in the insurance process. With Tensorflight, the cost of in-person property inspections can be reduced by over a quarter and its solutions can considerably enhance the efficiency of the claims function.
A Polish/US company with offices in Warsaw, New York, and London, Tensorflight is used by many of the largest global commercial property insurers including Zurich Insurance Group and QBE, its investors include some of the world's most respected VC firms.
About Quotech
Quotech combines a successful London-market underwriter's first-hand knowledge of speciality insurance processes with the development expertise of a team of skilled programmers. The result for clients is unparalleled efficiency, unbending clarity, unmatched functionality, and unbeaten connectivity through unsurpassed solutions accessed via uncomplicated interfaces to yield uncompromising understanding.
Quotech designs cloud-based platforms for each stage of the insurance value chain, and builds unique tools for each client's specific needs, giving everyone access to accurate, material, and relevant real-time analysis. Unique features include automated collection and analysis of the most relevant data for each class of business; compilation of comprehensive audit trails both of the data employed and the decisions made against it; and management of authority levels, risk appetites, and rating models.