Wollaton Hall, the magnificent Grade I listed Elizabethan mansion in Nottingham, England, dates back to the late 16th century. Wollaton Hall appeared as Wayne Manor in Christopher Nolan's Batman trilogy. The reconstructed Wayne Manor appeared in The Dark Knight Rises after the previous building (Mentmore Towers, a replica of Wollaton Hall) burned down in the storyline.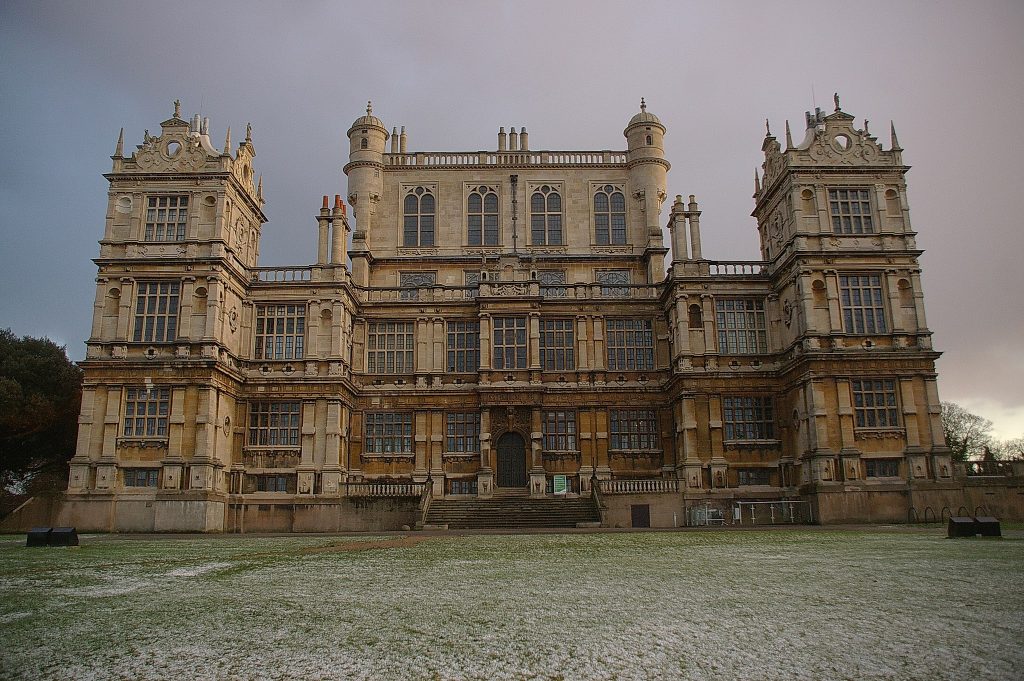 Built between 1580 and 1588 for Sir Francis Willoughby, the house was designed by Robert Smythson, the leading architect of the Elizabethan era, who had already completed Longleat and was later to go on to design Hardwick Hall.
The building was constructed using Ancaster stone from Lincolnshire, and its style is an advanced Elizabethan with early Jacobean elements. The hall was renovated several times throughout its history. In 1687, the house was unused for about four decades following a fire in 1642. In 1801, Wyatville carried out extensive remodeling, which continued intermittently until the 1830s.
More recently, in 2005, the hall was closed for a two-year refurbishment, and it re-opened in April 2007. Though much re-modeled inside, the exterior of the house remains largely intact. The building has four stories plus a basement and a footprint area of 19347 ft². The house consists of a central block dominated by a hall three stories high, with a stone screen at one end and galleries at either end, with the "Prospect Room" above that.
The entrance hall of the real-life mansion was used as the drawing room in the movie, which was designed by the renowned Neoclassical architect Robert Adam. In the film's conclusion, after Bruce's retirement as Batman and his efforts to restore order in Gotham City, the manor was transformed into an orphanage by his associates and was named after his parents. 
The building features were extracted by Tensorflight. If you'd like to learn more about how we can help you create better insurance products, reach out to our team today.