Talking about unique constructions in the series of #buildingoftheweek publications, we couldn't miss out on Norway's wooden skyscrapers. Mjøstårnet, meaning "The tower of Lake Mjøsa," is a striking building located in Brumunddal, Norway. What sets it apart from other skyscrapers is its unique construction entirely made of wood. The building project commenced in April 2017 and was completed in March 2019, becoming an architectural landmark that pushes the boundaries of sustainable design.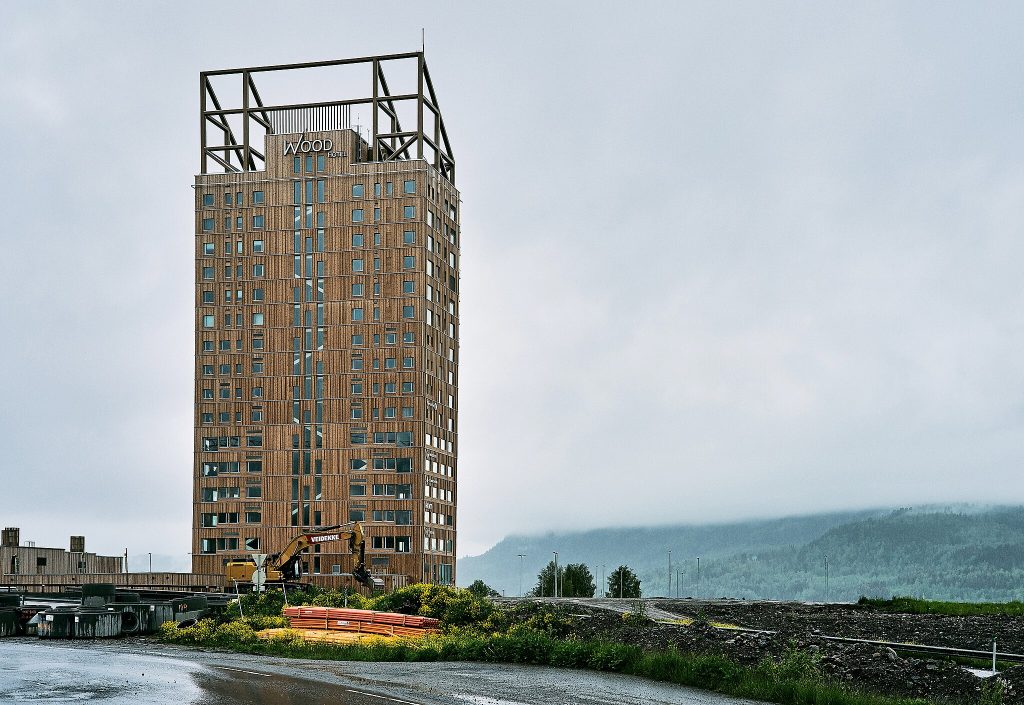 Standing tall at a height of 88.8 meters it boasts 18 stories, with its highest occupied floor reaching 68.2 meters. The architectural top, marked by a stunning pergola, soars to a height of 85.4 meters. This wooden tower is a harmonious blend of nature and innovation.
The construction of Mjøstårnet is a true engineering feat. The main load-bearing elements consist of large-scale glulam trusses along the façades, supported by internal columns and beams. These remarkable trusses not only provide the building with the necessary stiffness but also handle the global forces in both horizontal and vertical directions. By utilizing cross-laminated timber (CLT) and glue-laminated timber, Mjøstårnet achieves strength and durability while remaining environmentally friendly.
With a footprint area of 6,990 square feet (649 square meters) and a gross floor area of 11,300 square meters, Mjøstårnet accommodates various functionalities. Within its wooden frame, you'll be able to find offices, a hotel, apartments, a restaurant, and a roof terrace. But the surprises don't end there. Adjacent to the tower, a vast indoor swimming arena awaits visitors, adding a touch of leisure and recreation to the architectural masterpiece.
The construction of Mjøstårnet involved significant investments. Hent AS, the main contractor, estimated the project's cost at around NOK 450 million, while Moelven Limtre, responsible for the wooden elements, secured one of their largest contracts ever, valued at approximately NOK 50 million. These substantial investments highlight the commitment to innovation and sustainable development that Mjøstårnet embodies.
It's worth to note the wood used to create this structure was sourced locally, harvested from the surrounding forests of Brumunddal. By utilizing engineered wood such as CLT and glulam, Mjøstårnet showcases the potential of sustainable construction methods and the natural strength and beauty of wood.
The building features were extracted by Tensorflight. If you'd like to learn more about how we can help you create better insurance products, reach out to our team today.