Introduction
The world has been affected by the Covid19 outbreak and will likely never be the same. Globally, companies are dealing with uncertain economic times, disrupted workforces, safety concerns as well as the need to move forward. Insurance companies have been hit in similar ways, in addition, carriers may have to deal with potential claims for business interruption and D&O suits. Like everyone, the need to adjust is necessary. No one really knows when the world will be back to normal, and actually what the "new normal" will be on a global basis. It is safe to say that things have changed and will be changed in the future. At Tensorflight, we want to help the insurance industry adjust to the new reality in addition to those individuals affected by this crisis. To this end, Tensorflight will donate a portion of our revenue during this global crisis to those charities supporting Covid19 recovery.
Managing quarantined loss control engineers
Thousands of loss control engineers are now unable to visit client and prospect locations. These inspections assist in gathering information for the underwriters to utilize for analysis and pricing risk. Even without a visit, information can be provided and analyzed, despite this period of "forced quarantine". Companies have often utilized online imagery as an alternative or complementary method of analyzing risk. At Tensorflight, we offer an advanced web interface that provides your loss control engineers and underwriters location-specific information and tools for analysis all in one place. Tensorflight automates both the collection and analysis process, so your team can review and locations on a risk, account or portfolio basis efficiently.
The Tensorflight offering does not replace the full loss control inspection. Our data and tools allow for quantification of risk during and after this crisis.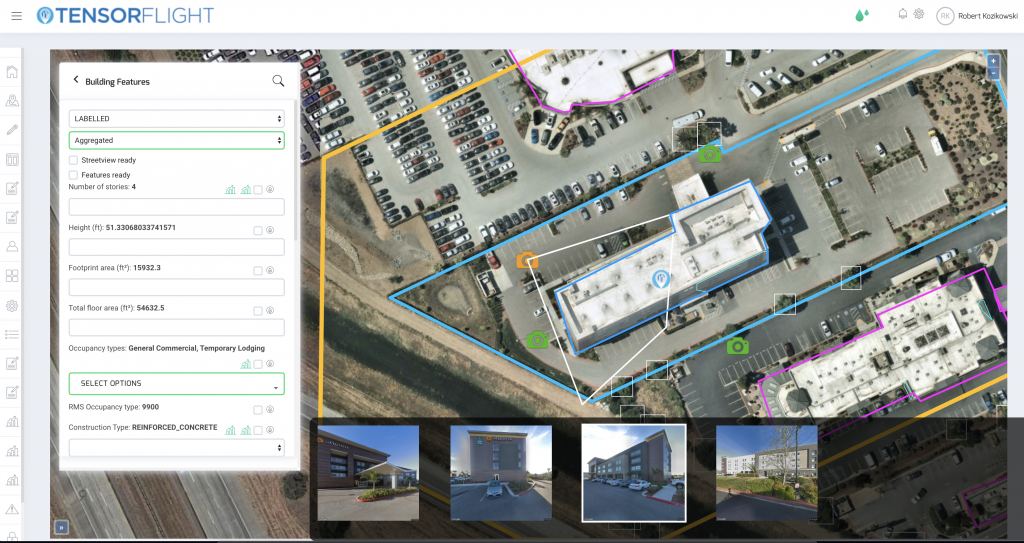 Conclusion
Every company in the world is adjusting to the Covid19 pandemic environment. Status quo is not acceptable and companies will need to adjust to the new reality. Access to client and prospect locations will likely be managed more closely as well as travel restrictions potentially being adopted by many. The need for an efficient method of collecting and analyzing data becomes a higher priority and in many instances, a requirement. Tensorflight is here to assist. Our priority is client satisfaction and we look forward to your inquiries. Contact us at contact@tensorflight.com.