Falmer Stadium, known as the American Express Community Stadium and more commonly referred to as the Amex, is the home of Brighton and Hove Albion Football Club, also known as the Seagulls, who have made history by qualifying for European football for the first time in their history. The building is located in Falmer, Brighton, just next to the beautiful South Downs National Park.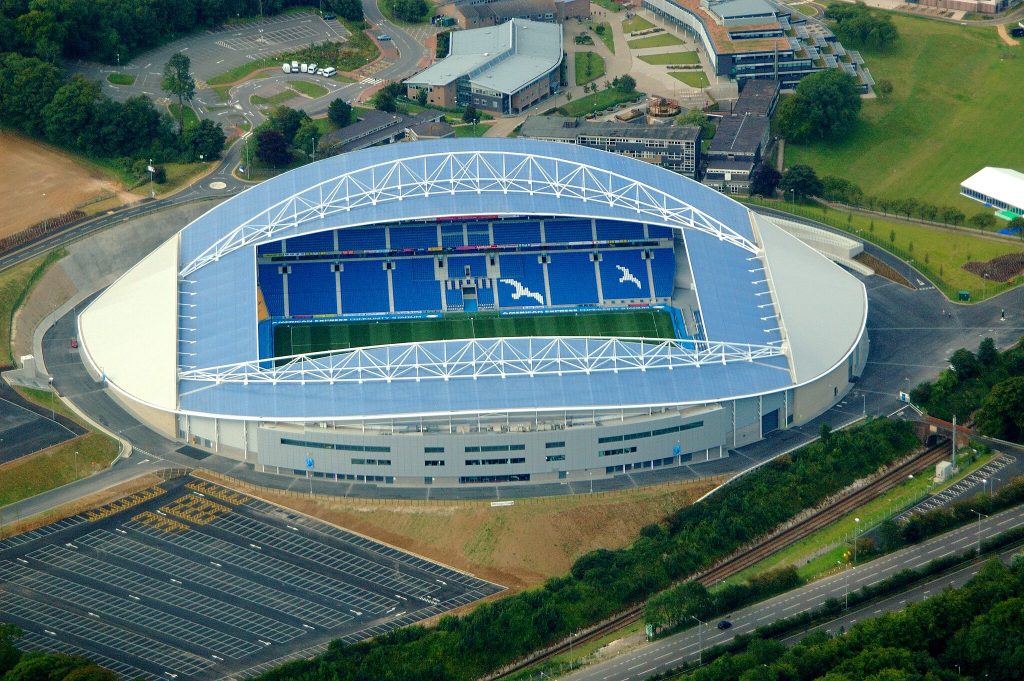 Here are all the building details we've extracted:

The AMEX Stadium was built between 2008 and 2011, at a cost of £93 million. It covers an area of 231,206 square feet, excluding the pitch, which is made of natural grass and measures 115 x 75 yards. The stadium has a capacity of 31,800 seats, which can be expanded to 32,500 if needed. The record attendance was 31,746 when Brighton faced Chelsea in the Premier League in 2022.

The stadium stands next to the South Downs National Park, a large area of natural beauty and biodiversity. It was designed to blend in with the environment and minimize the impact on the local wildlife. Being located next to the University of Sussex campus, it's not only a sports temple – it's also a hub for education and culture, as it even holds some of the University exams.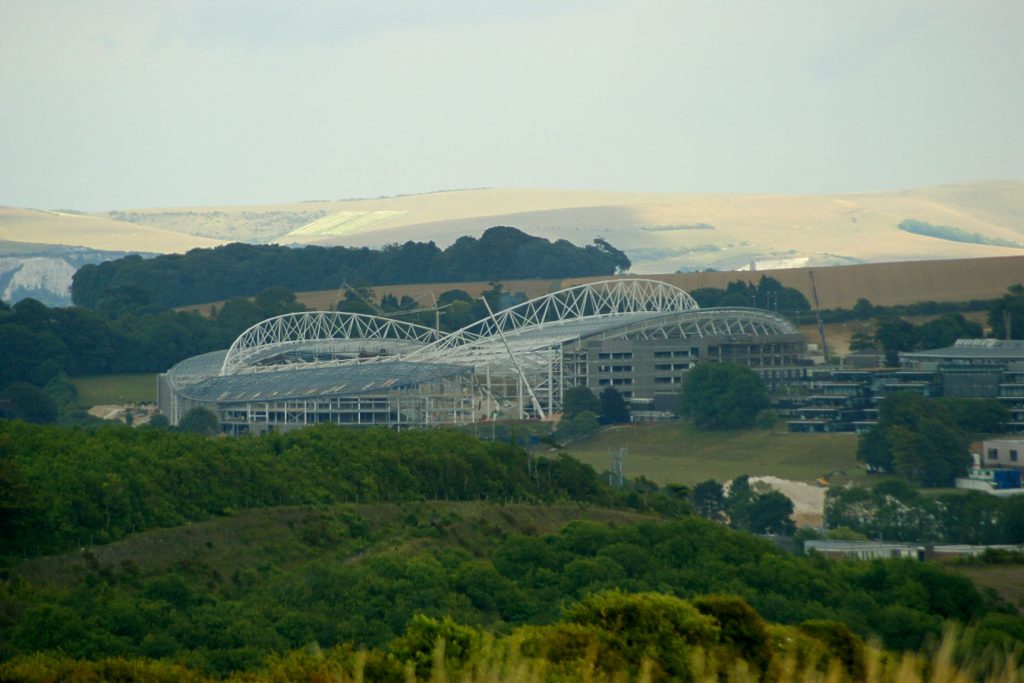 The stadium has a steel structure and an aluminum panel facade that reflects the natural light. The roof is designed to minimize noise and light pollution in the surrounding area. The stadium has four stands: the West Stand, which is the main stand with hospitality facilities and a TV studio; the East Stand, which is opposite the West Stand and has a family section; the North Stand, which is behind one of the goals and is reserved for away fans; and the South Stand, which is behind the other goal and is the largest and loudest stand, where the most passionate home fans gather.
The AMEX Stadium is not only a building but also a symbol of hope and resilience for Brighton and Hove Albion and their loyal fans. The club had to leave their previous home, the Goldstone Ground, in 1997. They had to play in temporary venues for over a decade until they finally moved to the AMEX in 2011. Since then, they have achieved remarkable success, such as promotion to the Premier League in 2017 and qualification for the Europa League in 2023.
The building features were extracted by Tensorflight. If you'd like to learn more about how we can help you create better insurance products, reach out to our team today.